Welcome! Here, you will find the latest updates to events I am currently participating in. Be sure to check back for more updated news, and hope to see you soon!
THE GIN GAME
Alan and I will be reading a new staged reading, so please join us for this month's Off The Page performance with The Gin Game, presented by the Sierra Madre Playhouse.

The Gin Game
Written by D.L. Coburn and Directed by Christian Lebano
Monday, September 18, 2017, 7:00 PM

Weller Martin tries desperately to retain some control over his life despite falling into ill health and becoming a reluctant resident of a nursing home. Fonsia Dorsey serves as the symbol of all gone wrong, and his battles with her, though over a simple game of gin, become not only a conflict with the woman but with divine will itself.

Donations are gratefully accepted, to help defray royalties.

Sierra Madre Playhouse
87 W Sierra Madre Blvd.
Sierra Madre, California 91024
(626) 355-4318 Visit Sierra Madre Playhouse for more information.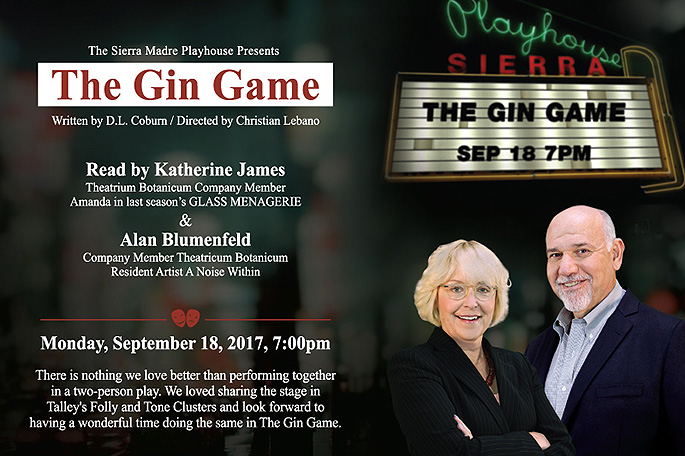 ZERO-SIX-TWO-EIGHT
This year's 2017 Female Playwrights ONSTAGE Festival will be a HOT MESS!

Join me for a reading of my newest play "Zero-Six-Two-Eight" on May 21, 2017. This is a monologue based on the work I did in 2016 with a man named Paul for ACT of Communication.

"Every once in a while I meet someone who simply bowls me over with the terror of waking up to that person's face being the one that greets me in the mirror when I wake up from a pleasant dream.

That the horror of that person's life is suddenly my own.

Paul was one of those people."

For some extra excitement, read more on the guest blog I was featured on.

And...don't forget to check back frequently for updates!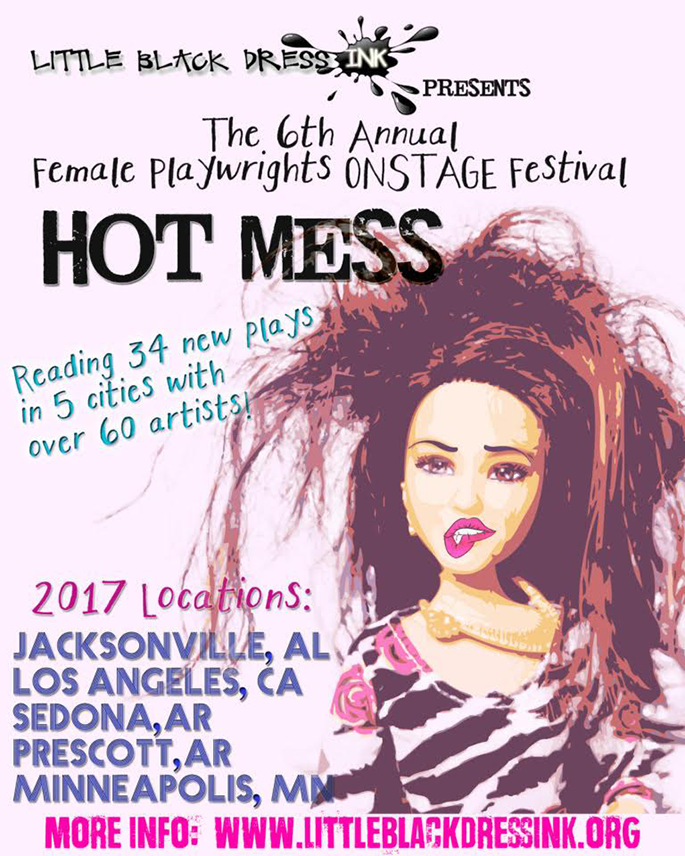 LOVE THROUGH THE CRACKS OF TIME
Sunday, July 31, 2016 Katherine's play Love Through The Cracks of Time (about Claude Monet and Alice Hoschede) was directed by Alan Blumenfeld at the Road Theatre's Playwright's Festival, at 8pm to 10pm.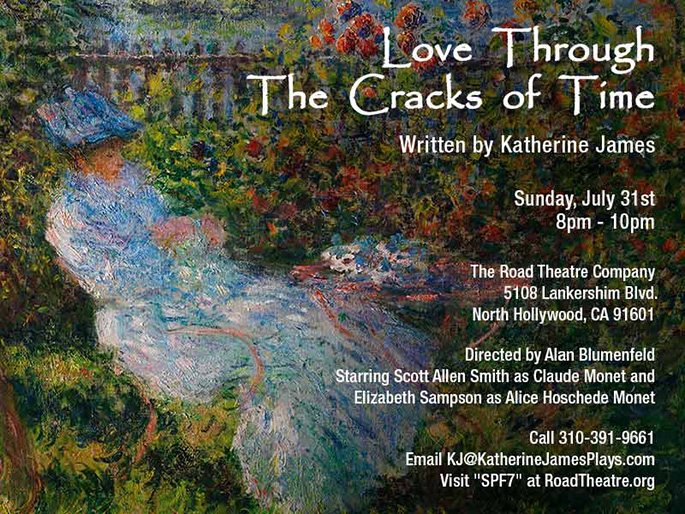 THE ROAD THEATRE
5108 Lankershim Blvd. North Hollywood, CA 91601.

ELEEMOSYNARY
Monday, July 25, Katherine played Dorothea in Eleemosynary, by Lee Blessing at the Sierra Madre Playhouse, at 8pm. (This play house was where Katherine just completed a wonderful run as Amanda Wingfield in The Glass Menagerie, which was directed by the wonderful Christian Labano).

BROKEN GLASS
Friday, July 22, Katherine took part in Arthur Miller's Broken Glass at A Noise Within in Pasadena at 8pm. This reading was directed by Alan Blumenfeld!

THE GLASS MENAGERIE
Come see Katherine James starring as Amanda Wingfield in The Glass Menagerie Sierra Madre Playhouse, May 6 to June 19, 2016.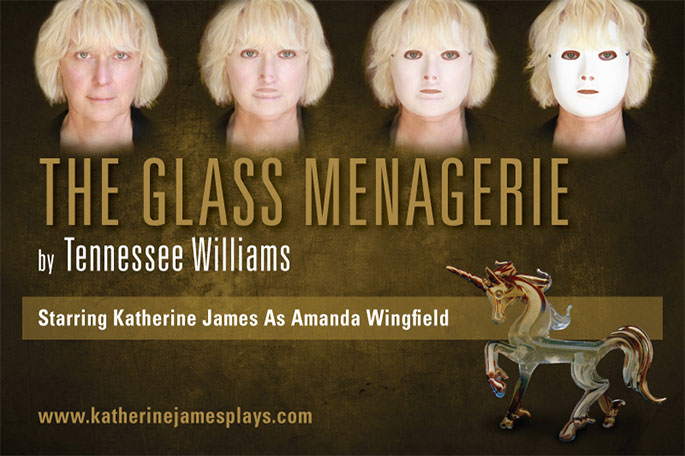 Directed by Christian Lebano / Original Music Composed by Jonathan Beard
CAST: Katherine James*, Christian Durso*, Andrea Muller*, Ross Philips, Jackson Kendall u/s *Members of AEA, the Union of Professional Actors & Stage Managers

The play tells the semi-autobiographical story of the Wingfield family, comprised of faded Southern belle Amanda and her two children, Tom and Laura. Tom is a restless dreamer frustratingly tethered to home, while Laura is a shy, crippled girl. At Amanda's urging, Tom brings home a "gentleman caller" for Laura and sets in motion an upheaval that changes all of their lives.

May 6 to June 19, 2016
Fridays and Saturdays @8:00pm / Sundays at 2:30pm
Talkbacks with cast after every Sunday matinee.
Special Sunday 7pm closing performance on June 19

Adults $30 / Seniors $27 / Youth $20 / Children $17
Not recommended for children under 12.

SIERRA MADRE PLAYHOUSE
87 W. Sierra Madre Blvd., Sierra Madre, CA 91024

Call 626-355-4318 / Visit SierraMadrePlayhouse.org